Family And Event Packages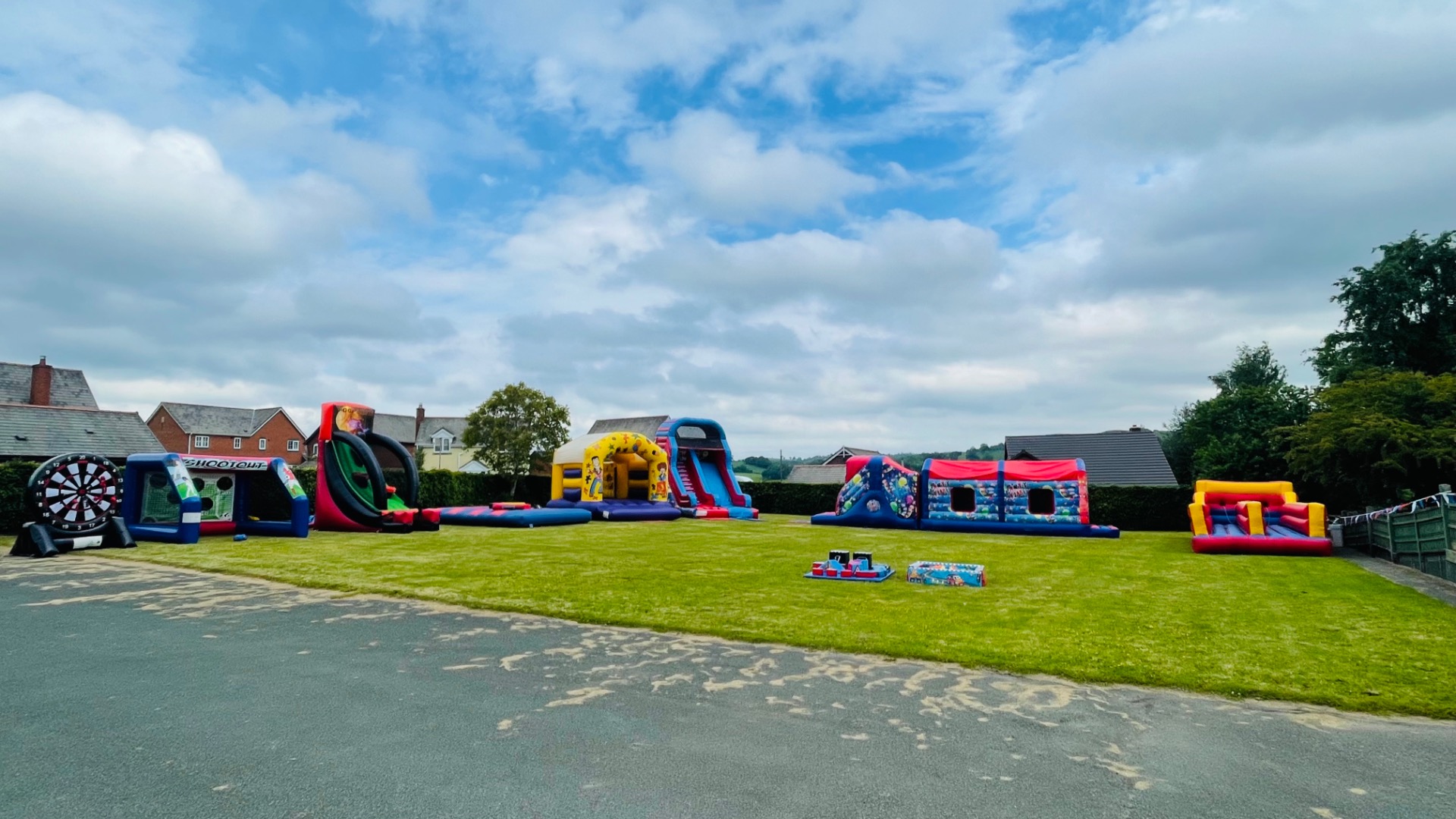 Family and Event Packages in Telford, Shropshire, Wolverhampton, Shrewsbury & More
Are you planning an event that is bigger than the standard birthday party like a community event, village fete, sports day or just a really big party? If so you'll be keen to have a variety of attractions for guests to get stuck into. In the years of experience AJS Bouncy Castle Hire have become accustomed to supplying larger events and we have worked out brilliant combinations of attractions that work together.
Our family and event packages are carefully selected to bring items together that add variety both in activity and age range. We've chosen them specifically so no guest feels left out, so when you book one of these party packages, you know there's something for everyone. The packages go from two items all the way up to a whopping seven!
Choosing one of our packages is a more cost effective way of getting multiple attractions and a great way to get deals and discounts on bouncy castle and party hire.
Telford, Shropshire and Wolverhampton Event Experts
Our team is well drilled with setting up and running each of our eight package deals so much so that even with the larger packages you'll find that the delivery, setting up, packing down and pickup is entirely hassle free. You won have to lift a finger.
It's a brilliant idea to have more than one attraction at events with plenty of footfall, as more attractions means less queues and hence more time having fun. For community events and fundraisers having lots of fun brightly coloured attractions can help bring in passing footfall and help make your event even more successful. First and foremost though, more fun inflatable items equals more fun which is what it's all about, your event will live long in the memories of children and they'll be asking when the next one is.
So now you know the benefits of the family and event packages AJS Bouncy Castle Hire have to offer your event it's time to browse the different packages available. We have many different packages for you to choose from! All you have to do is pick the one that will best suit your event and that lets you make the most out of the size and space available.
If you're unsure or would like some advice then don't hesitate to speak with our team and one of our dedicated staff members will be happy to help. We'll work with you to find the right package for the specifications of your event whether it's large, medium or small. AJS Bouncy Castle Hire has something ready made for it, so contact us today to avoid disappointment and we'll bring the perfect party package to your event!
All this and more is available from the AJS Bouncy Castle Hire team, ready for family events, festivals, fun days and more in the Telford, Shropshire, Shrewsbury, Wolverhampton and West Midlands areas. We're looking forwards to making your next event spectacular, so choose one of our party packages and we won't let you down.
Make an order through our website - use our simple online booking system to begin.
Showing 9 results