Superhero Themed Entertainment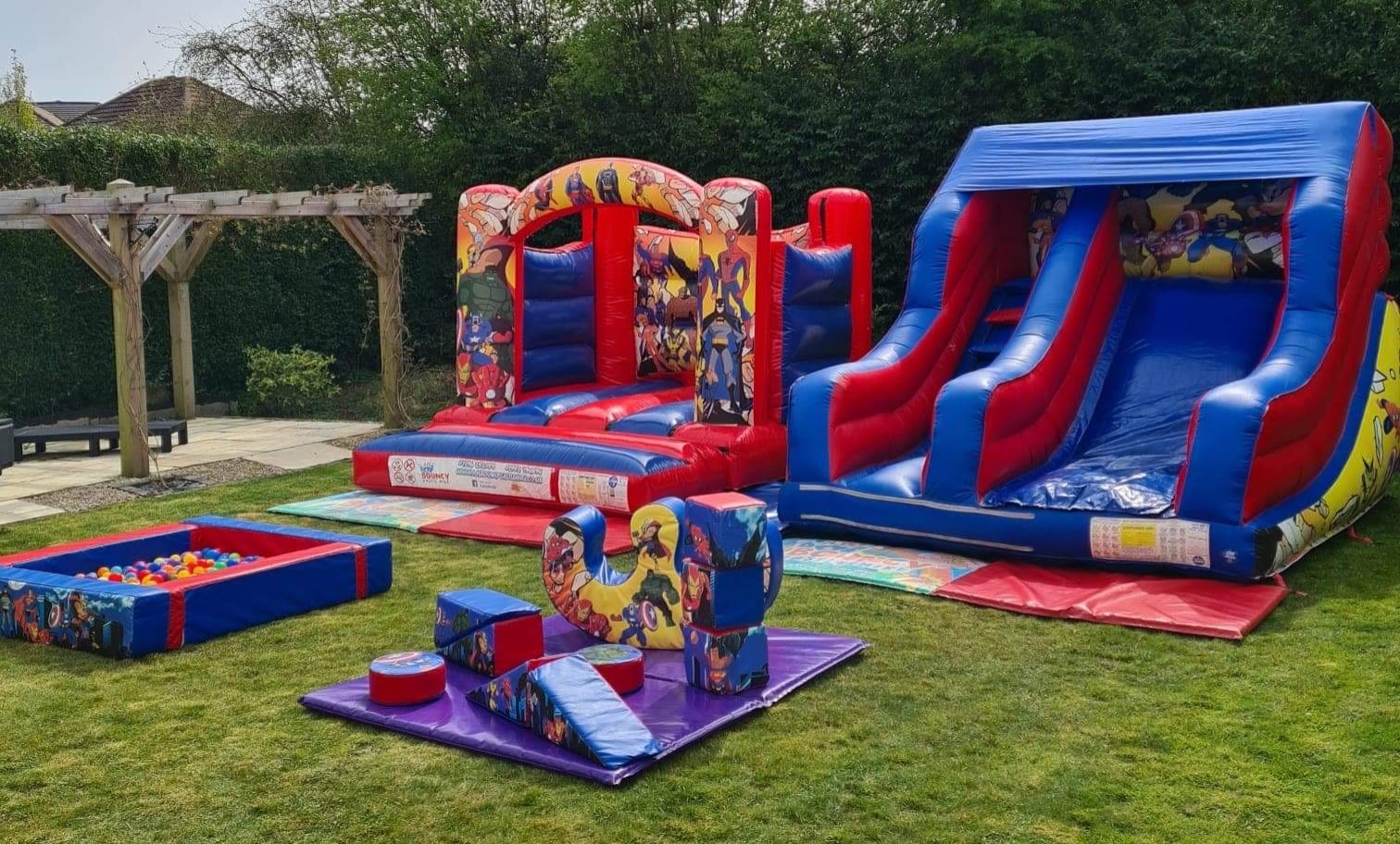 Superhero Party Hire in Shrewsbury, Telford, Wolverhampton, Shropshire & West Midlands
For the ultimate superhero party, we've got everything you need!
If your kids are massive fans of those caped comic book characters who keep us all safe, then why not make your next party one they'll never forget? Here at AJS Bouncy Castle we are proud offer a simply unbeatable selection of superhero-themed soft play, bouncy castles, games, slides and more! From Iron Man to Hulk, all the most popular superpowered favourites can be found on within these packages.
We're ready right now to deliver superhero fun to parties and events in Telford, Shrewsbury, Shropshire and across the West Midlands. Our various packages always go down a storm at playdates, birthday parties, baby showers, family get-togethers, Christenings and all other types of gathering, so be sure to give them a try.
Superhero Inflatables and Games You'll Marvel At!
Who is your tot's favourite superhero? Whether it's Spiderman, Superman, Batman or anyone else, they're sure to be featured on these premium quality products. Your little guests are certain to have hours of fun exploring the various types of entertainment that will be on offer - they're really a 'Marvel'!
From learning important skills of creativity and co-ordination by building pictures of superheroes using the soft play shapes, to having amazing fun jumping and leaping in the beloved bouncy castle, there's always something new and exciting to try.
If you've got some older guests coming who also want to join in with the superhero fun, why not add our fantastic Superhero Sumo Suit set to your order? Teens and adults alike will be racing to have their turn at donning a padded sumo suit and trying their luck in the sumo arena. We can provide sumo suits for Spiderman, Hulk, Iron Man and Superman. Which one will you choose?
The Party Hire Experts for Shropshire and the West Midlands
Safety is always our number one priority, and so all of our inflatables and games have features that mean your precious little ones will be able to play freely while you have complete peace of mind. Your children will feel like they're flying through the air just like their heroes from the movies when they try out our super slide - however, there's no need for anyone to worry, because a protected and soft landing awaits once they reach the ground.
It's not just kids who love AJS Bouncy Castle Hire, parents and guardians are massive fans of us too! This is because of the quality of our products, the fairness of our prices and the always high standard of our service. When you order from us you can be certain that we'll be there on time to set everything up for you, and that everything in your package will have just been cleaned and checked for any faults.
Our website is accepting orders for parties in Shrewsbury, Telford, Newport, Wolverhampton and elsewhere in Shropshire and the West Midlands right now. Make your next special occasion and simply out of this world experience for everyone in attendance by ordering our superhero packages now, or contact us for more information.
Showing 9 results