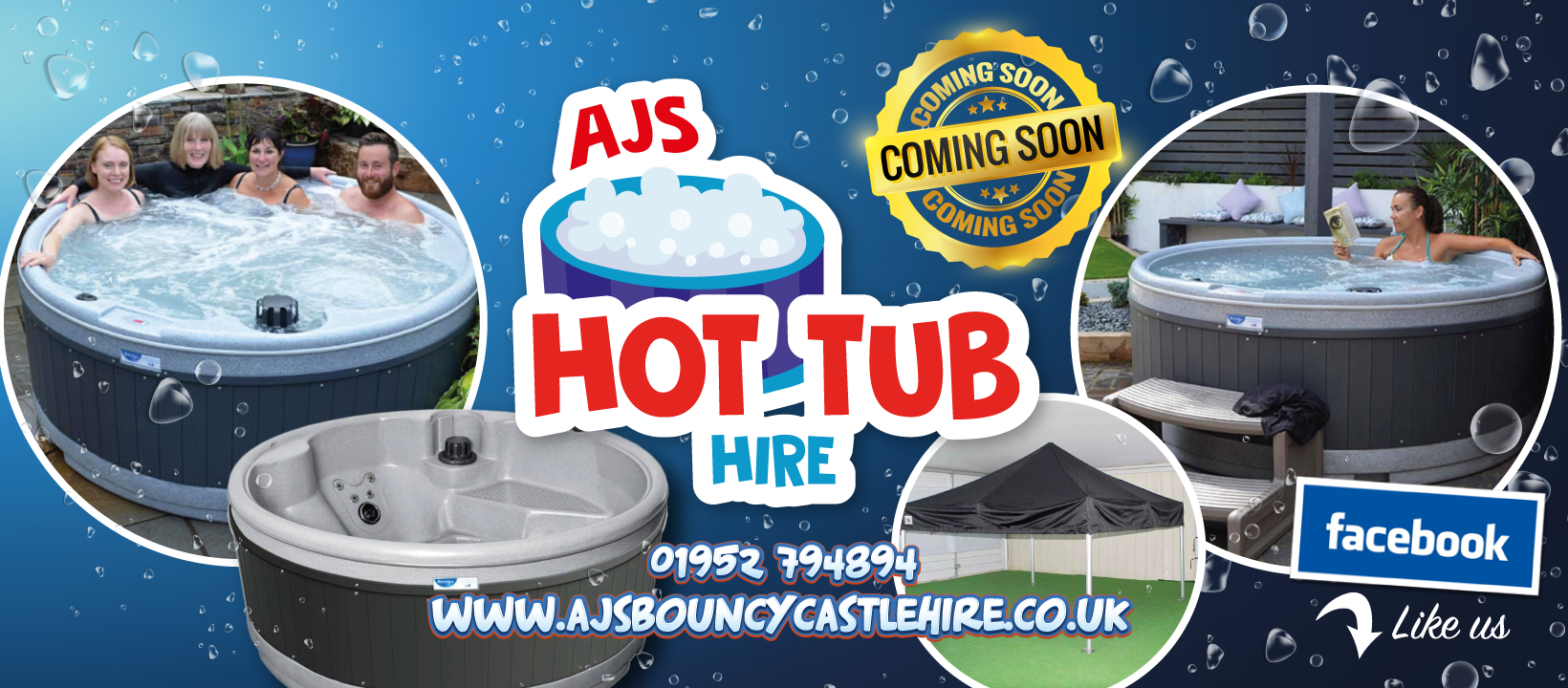 AJ's Hot Tub Hire in Telford, Wolverhampton, Shropshire and the West Midlands
We're your number one choice for hot tub hire and spa bath hire in Shropshire, Telford, the West Midlands and more!
Our party hire team have been involved in supplying bouncy castles and inflatables since 2017, and we've now moved into the luxury hot tub hire industry as part of our commitment to offering a comprehensive event equipment rental service at an affordable price.
Thanks to our affordable packages, our friendly customer-focused service, our efficiency, and our dedication to spectacular levels of satisfaction, we've already shown thousands of party-goers in the West Midlands and Shropshire why AJ's Bouncy Castle Hire are the team to choose for inflatables. We've now invested in luxury hot tubs, and we're excited to show these off around the area.
Hot tub hire is set to take the market by storm, so watch this space - we're your premium spa bath rental company, and we're ready to help you throw an incredible event.
Hot Tub Party Packages
We offer both standalone hot tub hire, plus party packages for themed events such as romantic getaways or celebrations. Prices start from just £150, which includes set-up, delivery and collection - we don't think you'll find many companies in the area offering hot tubs for as little as this!
All of our hot tubs are cutting-edge and use the very latest in spa technology. There are no flimsy, low-quality options from us - our hot tubs feature colour-changing LED lights, 360-degree hydrotherapy massage jets, customisable strengths and more, and are built from solid moulds for exceptional endurance and insulation.
Where do you provide hot tub hire?
If you're not in beautiful Shropshire - our homeland - don't worry! We provide much of the West Midlands with hot tub hire; just some of our delivery areas include:
Telford
Alrighton
Codsall
Wolverhampton
Walsall
Bridgnorth
And more!
A small delivery fee may be charged; please get in touch with us for specifics.
If you'd like any more information, just use the below methods to talk to our team. We'll be happy to help.
Call us: 07396252059
Email us: bookings@ajsbouncycastlehire.co.uk
Or check out our contact page.
Showing 7 results