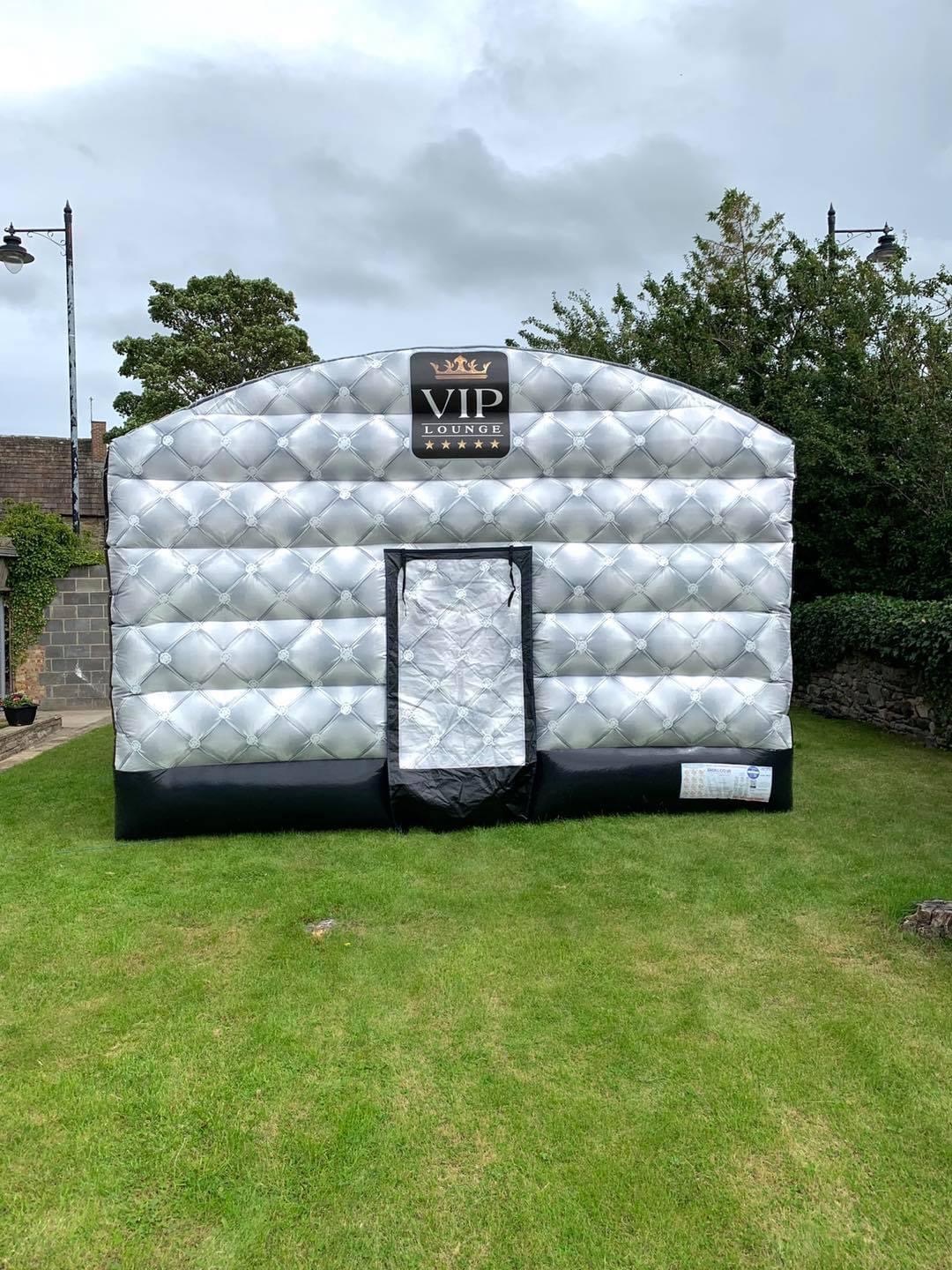 If you want to add something to your party that really has The Wow Factor and will impress all of your guests, then an hiring an inflatable night club from AJS Boucy Castle Hire is exactly what you need. This product is guaranteed to provide music and memories, and from our HQ in Telford we are ready to deliver this inflatable to Shropshire and the west Midlands right now.
Pop-up Nightclub Hire in Shropshire
This incredible product from AJS Bouncy Castle Hire is absolutely packed with features that will enable you to give your guests the VIP treatment. Don't worry about being turned away on the door: You and your friends' names are all down, so you can all come into the club and enjoy the incredible LED seating and bar. As you are in charge here, you can be certain that your favourite drink will always be available from the cool green LED bar. We're not lying when we say that when you hire a pop-up nightclub, it will transform your garden into the best nightspot in town!
Hopefully you and your friends are in a dancing mood, because the inflatable night club comes kitted out with a Bluetooth Music System. You can simply connect to this with any Bluetooth-enabled device and get music booming. You are resident DJ in this club, and as you are in charge you can be sure that absolutely every tune played will be just what you want to hear.
To really get the party atmosphere going once the music starts pumping, this product is also equipped with a smoke machine. The LED lighting will look absolutely fantastic in the lights, and your partygoers won't be able to believe their eyes. We find that people always say that this inflatable nightclub is even more amazing than they were expecting, and we're confident that you will think the same too.
Don't worry about people being left outside. As this product has a large footprint of 15ft x 20ft, it means that inside there's plenty of room for guests to get down and enjoy themselves to the music. The space required to house the inflatable night club is 20ft x 25ft, so be sure to check your garden is big enough to accommodate it before ordering.
AJS Bouncy Castle Hire - Telford Party Experts
Here at AJS Bouncy Castle Hire, we are trusted across Shropshire and the West Midlands because of how much care and attention we put into our service. We have repeat customers across all areas of Shrewsbury, Bridgnorth, Newport, Albrighton and Wolverhampton who always come to us when they're planning a party. They know everything we stock, from this pop-up nightclub to our adult bouncy castles and our event staff, is of the highest standards possible, and that there are never any delays with our deliveries. Consistently providing the best is what keeps our business going, so we always make sure it happens.
We can't wait to add you to our list of loyal clients, so get in touch with us right now to hire an inflatable night club. Give us a call on 01952794894 or visit our contact page.
Showing 2 results